If you have a backyard, you can farm with Chickens. Let me explain why more South Africans should farm with Chickens for meat.
Whenever you go to Pick 'n Pay, Shoprite or Checkers and go to the meat department something in your mind triggers and you become slightly angry before you even see the prices of the products. Do you know why? South African meat, poultry and fish prices are ridiculously expensive. Even so, you know that the chicken product is full of brine and shrink almost to halve the size when you have a Barbie (Braai) or roast it in the oven. Yet you think there is nothing you can do, but this is where so many people are wrong.
South Africa import 5.5 million chickens per week from South America alone. That is money that could of stayed in our Country and help make our economy stronger. I don't want to pry on this subject right now, but the truth is, somewhere in South Africa, in a smart leather chair and a fancy big calculator, someone is making big bucks and we as a nation have to settle for another country's reject, off-cuts and low grade chicken. We need to stop it right now and by doing backyard farming we will be taking the first step.
Is it really possible to farm chickens in my Backyard?
Yes, yes and yes again. Even if you live in the city, as long as you have enough space for roughly 12 chickens, you can enjoy two chickens every week at only the cost of buying and feeding a couple of day old chicks.
Broilers are quiet birds so your neighbours won't even know that you are farming in your backyard. (They only become noisy when they are in large flock – like hundreds or thousands birds in a cage.)
Feeding 12 chickens is not expensive and do not require a lot of your time.
What does it cost to farm chickens compared to buying them in the shops?
Before we dig deeper into this question, let me briefly explain how to purchase day old chicks. Most companies selling day old chicks will not sell you small numbers, but as a s general rule you can still get a box of 100. So this will also give you an opportunity to make extra cash to sell day old chicks in your neighbourhood and make a a little profit on the side.
The price in South Africa for old chicks is around R7 to R8 per day old chick. So that will add up to R700 or R800 per box of a Hundred.
Lets compare backyard farming vs buying
Price of Day Old Chick R7.50
Starter Feed R7.60
Grower Feed R15.20
Total R30.30
The total cost (excluding water and labour) to raise a chicken weighing around 2.4 kg to 2.8 kg is roughly R30.30 ($1.59) .
After slaughter at a yield of 66% -70% gives you roughly 1.6kg of chicken meat. That is a lot of meat for R30.30 compared to the current prices of R55 per kilogram or R88 per Chicken at retails shops.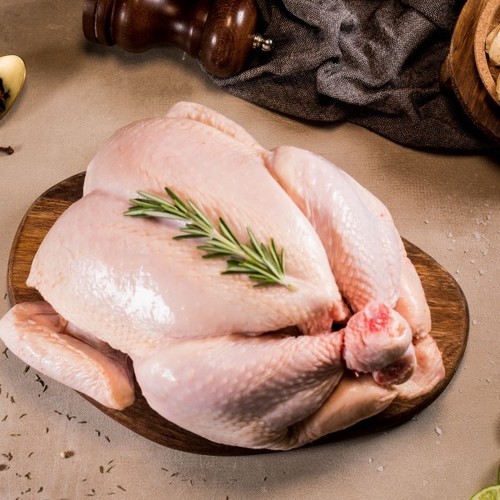 Not only do you get a better deal by raising chickens in your backyard, but you get 100% pure homegrown chicken meat compared to low quality imported produce from South America and Taiwan.
If you have backyard space, why not give it a go, it's fun and rewarding.
Question: Can I feed chickens with kitchen scraps like rice and vegetable peels?
Answer: Yes, there is no reason why not and you will save a lot of money on feeding cost, but keep in mind that your chickens will take longer to grow and reach slaughter point.
Important note: These estimates is for backyard chicken farming only – Big scale farming has more setup and running cost than a small scale or backyard chicken farming
More South Africans Should Farm with Chickens